Room types
All the 50 individually designed rooms are unique. Designed with a special touch and dedication, they all have an individual flair. In addition to all the modern amenities, we always offer our guests something extra, such as a desk in the bay window overlooking the magnificent trees aligning the Ahr river bank.
With the different room categories, from single rooms, double rooms to beautifully decorated junior suites and the absolute highlight, the luxury Ahr-Allee suite with 75 sqm, there is certainly something for everyone.
more:
Ahr-Allée suite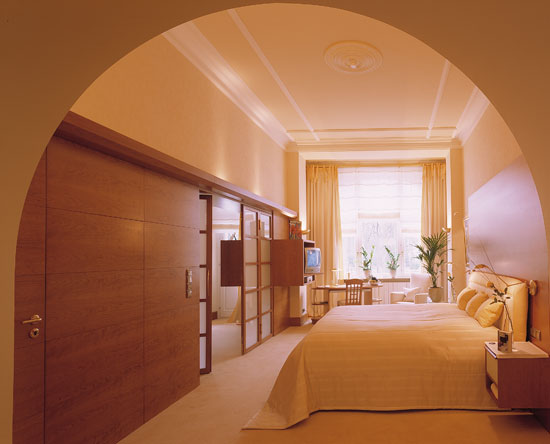 Ahr-Allée suite
A private space to dream, relax and feel good in.
With a magnificent view of the Ahr, you can relax here in style on 75 sqm. Enjoy the attention to detail that can be felt everywhere, the very individual charm of a unique property and sophisticated home décor. Here you can spend your precious time in luxury, surrounded by sophisticated materials and great design. Our suite meets the highest demands and leaves nothing to be desired.
You can look forward to:
a sleeping area that can be separated from the living area
a walk-in dressing room
spacious bathroom with separate WC
a CD system from Bang & Olufsen
2 TV sets
DVD player
Internet connection/Wi-Fi
south-facing balcony overlooking the Ahr